Meet the designer behind JmB Silver - Juliette Beaumont. She lives along the picturesque Kent coast, in a seaside town called Ramsgate.
Having dedicated 22 years to nursing within the NHS, Juliette embarked on a remarkable career transition.  Her innate artistic passion led Juliette to retrain as a jewellery designer. This transformative journey culminated in her acquisition of a Silver Jewellery Diploma from the London Jewellery School, situated in London's renowned jewellery hub, Hatton Garden.
In October 2017, Juliette took a bold step by launching her own business and  "JmB Silver" was born.
Amidst the challenges posed by the COVID pandemic, Juliette returned to her role in Intensive Care Nursing, only to relaunch her beloved business once more in 2023.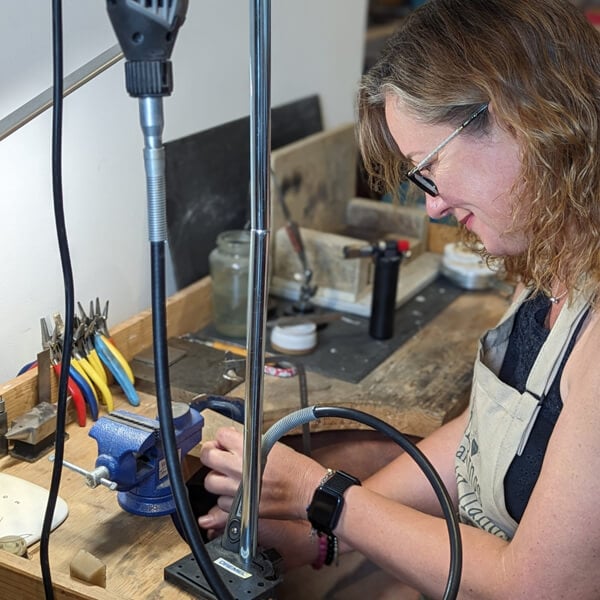 Inspiration and Materials
The inspiration for JmB Silver jewellery comes primarily from nature and, in particular, the sea. Juliette loves the water, the waves and rock pools which remind her of childhood. She often uses sea glass, collected on her travels.
Sea glass is shaped by the movement of the waves which tumbles the glass over many years, creating unusual shapes and beautiful colours.
Juliette also incorporates various gemstones sourced from reputable suppliers to showcase in her jewellery designs and she uses recycled silver and gold in most of her work. It is important to her to source materials sustainably and recycle silver where possible. Her material suppliers and companies that she uses include Cooksongold​, Wards Gemstones, Kernocraft, Tiny Box Company, The Curious Gem, Nineteen48, Lumio Plating, West 1 Castings and Surface Scan.
And, last but not least, there's the beauty of the precious metal itself. Whether it be silver, gold or copper that is smooth or subtly textured, encircling wrists, fingers and necks with beautifully designed rings, bangles and pendants.
Precious metal designs to fall in love with – forever.​
"It is my aim for customers to really enjoy wearing my silver jewellery designs and for them to have an excellent customer experience when choosing to buy from my company."  -    Juliette xx
​