This is your guarantee as a customer!
Hallmarking has been around in the UK for 700 years, starting life at "The Goldsmiths Company Assay Office" and which I am very proud to say is where I first registered my unique Makers Mark in 2017.
More about the makers mark later…
If you would like to know more about the history of hallmarking then you can find more about this on their website.
Precious metals are usually alloyed with other metals to make them easier to work with and more durable, so it isn't possible to detect an article's precious metal content by sight or touch.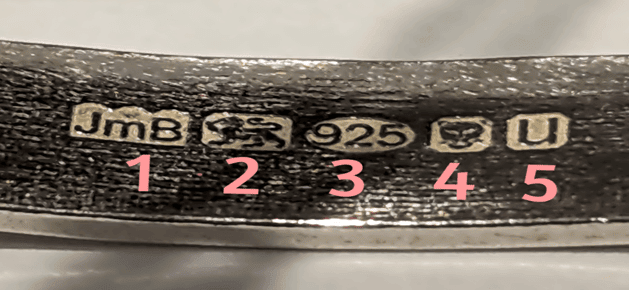 Photo – example of a hallmark on a piece of sterling silver jewellery that I made – the numbers under each mark are explained below
That is where Hallmarking comes in and it is law in the UK ("Hallmarking act 1973") for an Assay Office to hallmark articles containing precious metals for sale if they are described as such.
There are weight exemptions depending on what type of metal it is – the jewellery that I make @JmB Silver is usually silver or gold.
Any of my jewellery @JmB Silver over the weights below will be Hallmarked:
Silver over 7.78g
Gold over 1g
What does the Hallmark mean?
A Hallmark is a set of marks added to items (in this case jewellery) that is made of precious metal e.g. gold, silver, platinum or palladium. The Hallmark means that the jewellery has been independently tested to ensure that the metal corresponds to the legal standards of metal purity. The mark also tells you where it was Hallmarked, what it is made of and who made the piece.
The Full Traditional Hallmark is made of five marks:
This is a compulsory mark and is registered to the company or person who sent the jewellery for hallmarking. It made up of initials and surrounded by a shield.
I think it is super cool that a maker's mark is completely unique – no one else has the same mark!
My unique "Maker's Mark" is: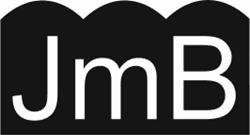 If my jewellery does not require Hallmarking (as it is not above the weight required by law) then I usually add my makers mark in some way (because I am super proud to be part of this historical tradition) – either by hand stamping the mark myself on the piece or by adding it on the chain via a tag with my mark on!
2) Traditional fineness mark
The traditional fineness mark is an optional part of the hallmark but applied as standard at the Goldsmiths' Company Assay Office in London which is where most of the jewellery I make is Hallmarked (unless stated otherwise).
So, the hallmarked jewellery that I make from precious metal is either Silver or Gold and so would have either one of these marks below:
Sterling Silver

Gold

3) Millesimal fineness mark
This is another compulsory mark and indicates the type of metal and its quality. This is shown in numbers and is conveyed in parts per thousand. The item is given a number indicating the lowest standard of the precious metal and this then will guarantee that the whole piece is not less than that.
The marks below would be part of the Hallmarks you would see in the jewellery that I make depending on whether they are silver or gold.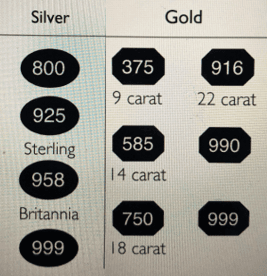 This is depicted as a "letter" which changes every year on 1st January and at the end of each year, all the date punches are destroyed.
So hopefully you can see the date stamp on an example of my work below that has been hallmarked– the 5th mark (date mark) is a letter "U" – and this specific font/letter case/shield represented hallmarks in 2019.