Please select your item(s) and add them to your basket. Then click on the basket icon in the main menu which will take you through the steps to the payment page.
If you have any queries about ordering, please contact me by email - jules@jmbsilver.com
JmB Silver offers a Gift Wrap service for online orders.
Each item you choose to be gift-wrapped will arrive in a beautiful branded jewellery box (made with recycled card), carefully wrapped in white tissue paper and sealed with a 'JmB Silver' logo sticker.
Gift wrapping costs £1.00 per item:
Decide on the item/items you would like to send as a gift;
Select the 'Gift Wrap' service at the checkout
Enter a personal message; this will be handwritten and posted with your gift to the address you provide.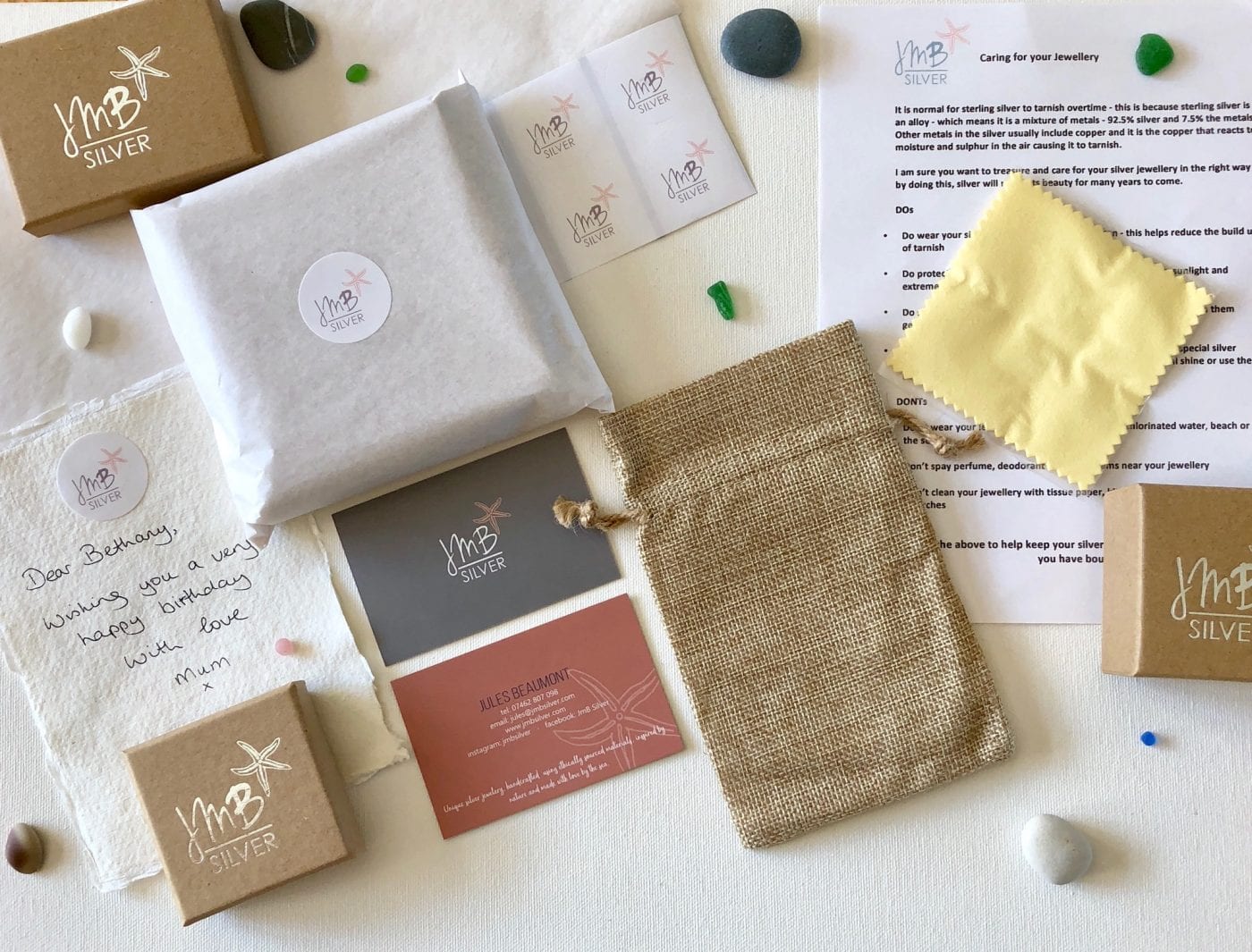 Our bangles come in the following standard sizes but can also be made to order to your specific measurements. Our bangles are measured using the internal diameter – distance across the middle of the circle taking the internal measurement in mm.
Our standard bangle sizes:
Small = 200mm circumference / 62mm diameter
Medium = 220mm circumference / 67m diameter
Large = 240mm circumference / 72mm diameter
How to choose your bangle size
Use another bangle
Find a bangle that fits you
Set it down on a flat surface and measure the inside diameter
Select the size on our website that corresponds to the measurement of your own bangle
Measure your hand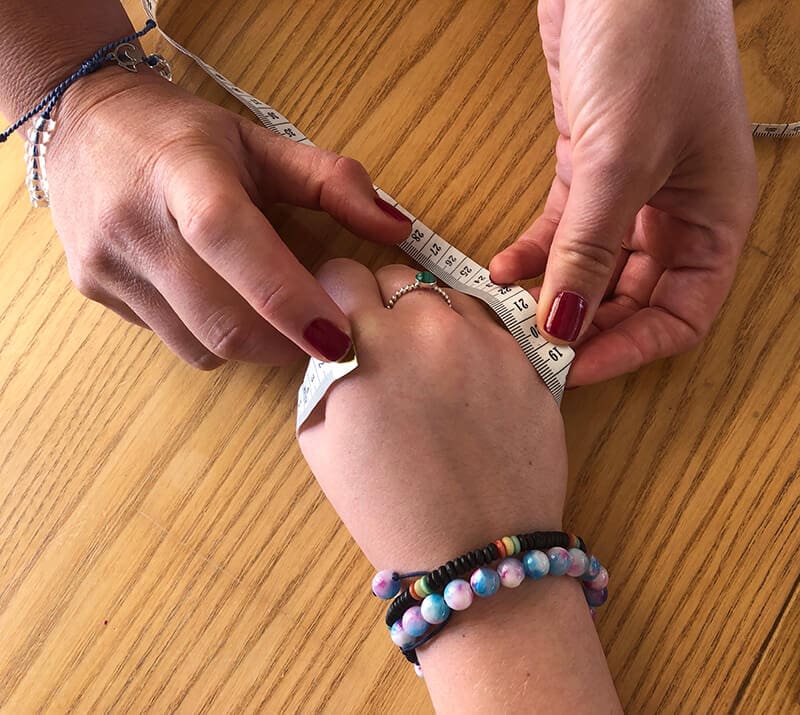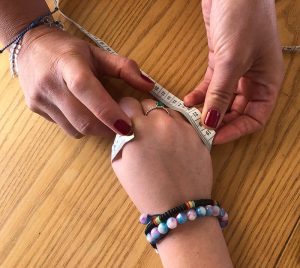 Take care when measuring to get an accurate result – you may need help to do this!
Using a tape measure
Choosing the hand you would like to wear the bangle on, make a fist and lay it flat on a surface
Wrap the tape measure around your fist and measure (in mm) the distance between the middle of the first knuckle under you fist to the middle of the fourth knuckle
Then compare your measurement to our standard bangle sizes (circumferences) in order to chose the size you will need
If you do not know your ring size, you can go to a jeweller and ask them to measure your finger.
The other option is to request a ring sizer which I will post out to you at a cost of £2.00 - click here to order.
Each item is either stamped with my Maker's Mark, has a Sterling Silver tag with my Maker's Mark attached, or is hallmarked.
Caring for your Jewellery
Treasure and care for your hand-made silver jewellery in the right way and it will retain its beauty for many years to come. Following the advice below will help you keep your pieces looking as beautiful as they did on the day you bought them – and that will make us very happy too!
DOs
DO wear your silver jewellery as often as you can – this helps reduce the build-up of tarnish
DO protect your jewellery from knocks, scratches, chemicals, sunlight and extreme temperatures
DO store your jewellery pieces in individual pouches or boxes to stop them getting scraped and tangled
DO clean your silver jewellery with the silver cleaning cloth provided, or use a soft, lint-free cloth and a special silver cleaner, if required. This will remove tarnish and restore your jewellery's beautiful shine
DON'Ts
DON'T wear your jewellery in the shower/bath, in chlorinated water, on the beach or in the sea
DON'T spray perfume, deodorant or apply creams near your jewellery
DON'T clean your jewellery with tissue paper or kitchen towels, as they may scratch the surface
Create a list of beautiful jewellery you would love to buy or receive as a gift.
Just create your own account, build your wish list and then share it – dropping hints has never been so easy!
Payment must be made in full for your order including postage costs before the order will be packaged and dispatched to you via Royal Mail 1st Class Special Delivery.
This guarantees next day delivery by 1pm and covers the item for loss or damage, it can be tracked by Track and Trace Service (Royal Mail) and does need a signature on delivery.
Small parcels under 100g and with a value under £50 - postage will cost £4.40 per package.
Small parcels under 100g but worth more than £50 the postage will cost £6.45
Orders over £200 will be delivered free of postage costs.
FREE DELIVERY in my local postcode area CT6
VAT of 20% is already added to the prices shown for materials used.
INTERNATIONAL ORDERS:
(Shipped via Royal Mail International Tracked & Signed)
EUROPE £6.00
USA £6.50
AUSTRALIA £7.00
NON EU EUROPE £6.00
All the above services require a signature on delivery. (To avoid delays in receiving your parcel please ensure there is someone available to sign for it.)
If you need your item for a particular deadline it is essential to order well in advance especially if overseas or during a seasonal rush.
Always double check the processing/dispatch times for each item as these may vary, especially if 'made to order'.
If items are in stock, they will usually be dispatched within 5 working days within the UK.
Any items stated "handmade to order" will be dispatched within 2 to 3 weeks within the UK.
You will receive an email once your purchase has been dispatched to you.
Secure Ordering & Payment Options
Payment is accepted via PayPal shopping cart which also accepts credit and debit cards.
Orders can be cancelled anytime up until the item has been dispatched to you.
Please contact me via email to cancel an order - jules@jmbsilver.com
If you are not entirely happy with your purchase and wish to return your jewellery, please follow these steps to ensure a full refund including return postage costs:
email me straight away to let me know that you are making a return so I can look out for the parcel and arrange your refund - jules@jmbsilver.com
the jewellery must be returned in its original packaging
return the parcel using Royal Mail 1st Class Special delivery and send me a photo of the receipt so I can add this cost to your refund. If another delivery method is used, this is at your own risk. If the package then goes missing or is damaged in transit, a refund will not be issued.
Return address: Mrs Juliette Beaumont, 17 Beacon Hill, Herne Bay, Kent CT6 6AY
Returns are accepted within 30 days of delivery
JmB Silver is committed to protecting your privacy and will only use information we collect about you lawfully (in accordance with the Data protection Act 1998). We use Mailchimp to collect and store any personal data that we keep about you which is a secure way of storing and managing data.
Information is collected for the following reasons:
to process your order
to provide you with information where you have given your consent e.g signing up to the JmB Silver newsletter
to deal with a query you have asked
The type of information that may be collected includes:
your name
your address
your phone number
your email address
JmB Silver will never collect sensitive information about you without your consent and any information that is held will be accurate and up to date. Please email me if you would like to check any information that is held about you and if there are inaccuracies, these will be corrected or deleted immediately. Personal information held about you will be held securely in accordance with the UK law. If information is to be transferred outside the EEA (European Economic Area), your permission will be sought first.
Technology may be used track the patterns of behaviour of visitors to the JmB Website. This can include a "cookie" which would be stored in your browser. You can usually modify your browser to prevent this from happening. Information collected in this way can be used to identify you unless you modify your browser settings.
JmB Silver is registered with the International Commissioners Office (ICO) - registration number - ZA321489